John Waterhouse
Fed up of Brexit? Or just had enough of bad news in general? Maybe you just need perking up! Either way, if you want an experience which takes you out of yourself, leaving you with a spring in your step and a smile on your face, 'Vampires Rock' is the show for you; quite simply superb and a delight from start to finish.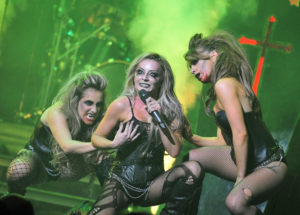 At first glance, 'Vampires Rock' is an absurdly simple concept; take some of the finest rock and metal songs of the 70's and 80's, use the imagery and backdrop of classic horror movies from the 30's and 60's and present it in a glitzy, sexy format using a plot as thin as the most basic of pantomimes to link it all together. And yet it works together like a dream! The reason is that behind a self-deprecating comic style and an easy-going manner with the audience, 'Vampires Rock' is an object lesson in meticulous attention to detail and thorough all-round professionalism (with a brilliant array of costumes and impressive two-level stage).
The show, having undergone a few incarnations, has its origins in Steve Steinman's appearance as Meatloaf on 'Stars In Their Eyes' over twenty five years ago but has grown into something of an institution. 'The Rocky Horror Show' started off as a short fringe production in upstairs of a pub and 'Vampires Rock' has undergone a not dissimilar transformation, increasing in popularity year on year as it is continuously refined. Whilst remaining Mr Steinman's project, the show has the warm feel of an ensemble with the musicians being very much up front and part of the performance whilst the dancers also sing and help drive the story. The full complement of six actor/singers and five musicians give the impression of a much bigger cast and the overall feel is of a big-budget West End extravaganza.
Steve Steinman, as Baron Von Rockula broke the fourth wall from start to finish, having an almost intimate relationship with the audience in spite of the size of the venue. Long-time associate John Evans provided the ideal foil to the Baron as Bosley the Janitor, with the show at times being reminiscent of a Morecombe and Wise double act. Emily Clark stepped in on this, the final date of the tour, as the devilish Vampire Queen (the role she played in previous years' productions) and was clearly at home in the role, giving powerful renditions of 'Highway To Hell' and 'How Do I Get You Alone'. Hayley Russell was well cast as the innocent Roxey Honey Box, going on to prove she was more than capable of delivering great rock classics such as 'Total Eclipse Of The Heart' and 'Poison'. A special note must be made of the performances of Trixabelle Bold and Victoria Hawley, effectively an excellent double act as the dancers and backing singers, taking the whole show up a notch with sensual choreography and backing vocals; nobody was overshadowed in 'Vampires Rock'.
A review would be incomplete without particular attention of the band; five great musicians who each gave added energy and showmanship, moving seamlessly around the cast, clearly having as good a time as the audience. Henry Bird and Jamie Hiscox alternated in playing lead breaks through the extensive musical repertoire, either side of powerful skin-beater, Pete Jean. Bass player Zoe Parr took full advantage of a commanding position on the top level to strut her stuff, flanked on stage right by Andy Preston, adept at every rock genre on the keyboards. It was great to see such a competent band so intimately involved with the whole performance.
It may be all about soulless Vampires but if you don't love 'Vampires Rock', you truly have no soul. Here's to the 2020 tour!
 John Waterhouse